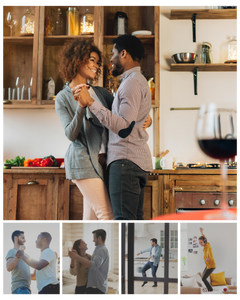 This is a wonderful way to try out Ballroom, Latin and/or Swing. This can be done In-Studio with physical distancing measures in place.  
Take advantage of this special by yourself or as a couple!  A couple purchases one special for the two of them.  It can be used for beginner to advanced levels.  You must be a NEW student to the studio to use this special.
We teach all the popular partnership dances, such as Fox Trot, Waltz, Tango, Viennese Waltz, Quickstep, Cha Cha, Rumba, Salsa/Mambo, Merengue, Bachata, Bolero, Paso Doble, Samba, East Coast and West Coast Swing, Two-Step, Polka and others....
Some dances are easier to start with than others. Your professional instructor will be happy to guide you along this new and exciting journey.  Whatever your dancing goal is, let us help you take the right step!
This package includes
2  private lesson, 30 minutes of dancing to introduce you to partnership dancing and the dances you are most interested in trying out, with some time before and after your lesson to discuss your dancing goals, music interests etc...

1 group lesson, 40 minutes of dancing.  

Maximum 9 bodies in the studio for each group lesson.

2 party lessons, that combine into 1 private party practice session (1.5 hours) where you put your dancing into practice to the music, with the lights turned low, music turned up and the disco ball going.  Maximum 9 bodies in the studio for each private party practice session.
This is an introductory special, which means it is the beginning of your learning.  It is a great way to see if you like it and to start you on the road to becoming a confident dancer.
The private lessons can be scheduled at your convenience Monday to Friday 12 noon to 9 p.m. 
NEW Students to the Studio can do ONLY ONE introductory special!
Must be over the age of 19 to participate.
For lesson options for Juniors (18 and under) please call the studio at 613-567-3237.