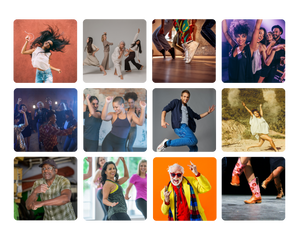 If you've ever wanted to feel free and comfortable dancing whenever you hear music, whether you have a partner or not.... THIS IS THE CLASS FOR YOU!!! Join us in exploring solo dancing in various social situations, from dancing in clubs to country hoedowns, wedding receptions to the comforts of your own kitchen with family and friends! A high energy, constant moving class; exploring rhythm, movement, coordination and FUN that will leave you sweaty and wanting more! Can't wait to see you there!
We hope you join us in a ton of fun as we teach you how to unleash your inner GROOVE and start DANCING LIKE NO ONE'S  WATCHING!
NEXT SESSION DETAILS

Wednesdays at 8:15 p.m.

Start Any Week!!