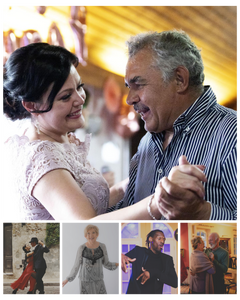 This is a wonderful way to try out VIRTUAL Ballroom, Latin and/or Swing dancing lessons from the comfort & safety of your home. All lessons are done through zoom with a secure meeting ID and password that is new for each lesson. 
Dance on your own or as a couple!  A couple purchases one special for the two of them.  It can be used for beginner to advanced levels.  You must be a NEW student to the studio to use this special.
What Can You Learn?
We teach all the popular partnership dances, such as Fox Trot, Waltz, Tango, Viennese Waltz, Quickstep, Cha Cha, Rumba, Salsa/Mambo, Merengue, Bachata, Bolero, Paso Doble, Samba, East Coast and West Coast Swing, Two-Step, Polka and others....
Some dances are easier to start with than others. Some dances are easier to do in a smaller space.  Your professional instructor will be happy to guide you along this new and exciting journey!
This package includes
A VIRTUAL 40-minute consultation with your professional dance instructor to discuss your dancing hopes, go through some of the basic elements of dancing, how to hold each other as a couple and to discuss which dances and styles of music most interest you.  This way your teacher can better customize what to do on your 3 private lessons.
3 VIRTUAL private lessons, 30 minutes each to introduce you to partnership dancing and the dances you are most interested in trying out
T

his is an intro special and it will give you a great start to learning and then you'll know if you'd like to do more lessons.  Our programs beyond are totally custom to your dances and dancing goals.

The private lessons can be scheduled at your convenience Monday to Friday 12 noon to 9 p.m. 
 NEW Students to the Studio can do ONLY ONE introductory special.